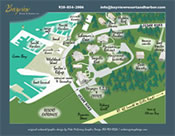 Click to get a bird's eye
view of our property
Door County is famous for its many shipwrecks.  Did you know that the name Door County has its roots in the French name 'Porte des Morts', and can be traced back to a battle between the Potawatomi and Winnebago Indian tribes?  According to legend, the battle took place at Door Bluff County Park, which is just north of our marina or a scenic bicycle ride from the resort via Garrett Bay Road.
The month of May in Door County offers Multiple Fishing Opportunities
Starting on the first Saturday in May, our Smallmouth Bass Opener offers many locations to chase after these fish around the Door County Peninsula.  May also has great potential for fishing for trophy size Walleyes in shallow water along the peninsula.  While a lot of the Walleye fishing is done at night, there are also daytime opportunities to catch these fish.  For those who are interested in fishing for Brown Trout, we have fantastic opportunities during the entire month of May to troll with minnow type baits along the peninsula. 
Also, don't overlook fishing for Northern Pike in many of the bays along the Door Peninsula.  May can produce some real trophy size Pike!  When fishing for Northern Pike, presentations of both trolling and casting have great potential.
-Captain Paul Delaney
Late-Eyes Sport Fishing Guide Service
<<-- Back to "Fish Stories"
Email to a friend