Des Plaines Brides & Grooms: Plan Your Lakeside Wedding on our Door County Wedding Pier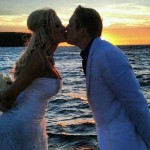 For a new bride and groom, 'Happily Ever After' begins with sunset wedding at Bayview Resort & Harbor, home of the Door County Wedding Pier.  On your wedding walk down the aisle in your beautiful dress over turquoise waters in view of rocky shores and majestic bluffs.
In 2011, the owners of Bayview Resort & Harbor, Inc in Ellison Bay, Wisconsin announced that they would allow guests to use the private, upscale waterfront resort for water side wedding ceremonies.  The resort's south pier, also known as the Door County Wedding Pier, was completely rebuilt in 2010 with special events like wedding ceremonies in mind in order to take advantage of the spectacular waterfront location and picturesque view of Ellison Bay - not too far from Des Plaines.
As a result, guests visiting from Des Plaines can now say their 'I Do's' on the beautiful waters of Green Bay with a stunning view of Ellison Bay and the setting sun as their backdrop!  The private beach and Door County Wedding Pier offer truly unique water side venues for formal or casual wedding ceremonies from 10 to 200 guests.  Currently, there is no site fee for wedding ceremonies up to seventy-five guests.  Decorate the pier and your wedding bouquet with local flowers.   Wedding receptions may also be held on site, subject to availability.  Enjoy your champagne toast outdoors at our private beach area with your family and friends!  A site fee applies to wedding receptions.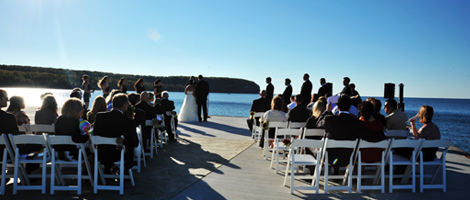 Des Plaines couples find that in addition to being an fantastic setting to hear the words, 'You may now kiss the bride!', the resort's location, grounds and facilities also offer guests the opportunity to host a casual rehearsal dinner or other fun, family related activities before or after the wedding ceremony.  As Bayview Resort & Harbor is centrally located in Northern Door County, we make an excellent 'home base' for travel and excursions from Des Plaines to places like Washington Island and Peninsula State Park as well as many shops, artisan boutiques and restaurants such as Mink River Basin and The Wickman House - all within walking distance of the resort.  In addition, guests may decide that they don't want or need to leave the resort grounds due to our many amenities, including marinas and exercise room.  Wifi is available throughout the resort as well.
Des Plaines long-time guests have been returning to Bayview Resort & Harbor for generations to take advantage of the beautiful grounds and waterfront amenities for their annual vacations or romantic holidays.  Allow us to help you begin your new lives together by hosting your wedding ceremony on our scenic Door County Wedding Pier at Bayview Resort & Harbor!  As our wedding gift to you, there is no site fee for resort guests.