Enjoy a Romantic Getaway in Door 
      County at Bayview Resort & Harbor
Lake County couples who wish to enjoy a romantic getaway in Door County, whether for a weekend or a week, have many options to consider when deciding where to stay and what to do while on vacation.
Many Door County motels offer a nice place to spend the night while exploring the peninsula.  Bayview Resort & Harbor is your Door County lodging destination where you have acres of waterfront property and beautiful grounds that enable you to 'Do Nothing' and relax with your husband or wife.  If you prefer a quiet, private retreat from your Lake County everyday life, spend it with us and return home with your relationship renewed and your personal batteries recharged!  You may also choose to take advantage of our Door County waterfront resorts' central location and make us your home base while exploring the many activities available to couples in the county.
For those of you who wish to 'Do Nothing' while on vacation, you may choose to relax on our beachside lounge chairs under the comfort and shade of a large umbrella.  While there, enjoy the view of one of Door County's most beautiful harbors, bluffs and watch the boats coming and going at the marinas - a view your probably won't see in Lake County.  Please feel free to borrow a book from our lending library.  At lunchtime, you may decide to share a private picnic on our newly refinished, expansive south pier, where you will find a large stone grill, picnic tables and umbrella.  Return to our beachside area after dark and sit around our large stone fireplace for a romantic evening of sipping wine or making 'smores' with your companion.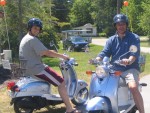 Couples from Lake County can enjoy the hiking and biking excursions available via beautiful back country roads around the resort.  The Ellison Bay Information Office on Highway 42, across from the Viking Grill, offers no charge bicycle rentals, subject to availability.  Play tennis on our courts and stop by the office for free loaner racquets if you forgot yours at home.  We also offer swimming, fishing, and complimentary use of our kayaks and canoes.   Take your date on a romantic canoe trip and explore Ellison Bay's shores from the water!
Resort amenities also include internet, satellite TV and a charcoal BBQ on the balcony or porch of each unit.  Guests also have access to our work-out and laundry rooms - all the comforts of your Lake County home.
When you decide that it's time to venture outside, the resort grounds and explore Door County, you have many activities to choose from.
Door County affords many opportunities to experience the "good-old-days" of your Lake County youth in one of the most picturesque areas of the Midwest!  Do you remember going to the Drive-In Movie Theater?  In Fish Creek, you will find the Skyway Drive-In www.doorcountydrivein.com. Take your companion out on an old fashioned movie date!
When was the last time you took your significant other to a musical?  Peninsula Players Theatre www.peninsulaplayers.com in Fish Creek is America's oldest professional resident summer theatre.  This beautiful outdoor venue produces new musicals, comedies and whodunits monthly throughout the summer and into fall.  American Folklore Theatre www.folkloretheatre.com offers original musical theatre under the stars in Peninsula State Park.  Birch Creek www.birchcreek.org hosts a summer concert series for people with diverse musical tastes.
Our many area state parks have kept their beauty and character for generations.  Consider visiting Newport State Park http://dnr.wi.gov/topic/parks/name/newport, a ten minute drive from the resort, where you and your mate can bike and hike along Northern Door County's scenic shoreline.  Peninsula State Park http://dnr.wi.gov/topic/parks/name/peninsula has entrances in Ephraim and Fish Creek, about twenty minutes from the resort, where you may choose to climb the Eagle Tower or visit Nicolet Beach.  Whitefish Dunes State Park http://dnr.wi.gov/topic/parks/name/whitefish and Cave Point County Park http://www.door-county-wisconsin.net/cave-point-door-county.htm offer beautiful and unique landscapes approximately 45 minutes away.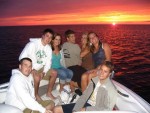 Bayview Resort & Harbor can be your home base for other 'mini-adventures' around Door County.  We are only a 10 minute drive from the Washington Island Ferry Dock www.islandclippers.com in Gills Rock or drive another two miles to the car ferry www.wisferry.com in Northport.  On Washington Island, you can visit Schoolhouse Beach or Mountain Park & Lookout Tower (one of the best views in Door County and well worth the climb!) or drive to Jackson Harbor and get a sense of Door County Maritime History at this historic fishing village.  You can also take the small ferry from Jackson Harbor to Rock Island State Park http://dnr.wi.gov/topic/parks/name/rockisland.   If you are serious cyclists, you may elect to take the passenger ferry and see Washington Island by bike.  When it's cocktail time or for a bite to eat, visit Nelson's Bitters Pub, perhaps the oldest continuing operating bar in Wisconsin.  While at Nelson's, ask about the history of their 'medicinal' remedy during Prohibition and then join their Bitters Club.  Visit http://www.washingtonisland.com/visitors-guide/attractions/ to see these and other Washington Island attractions.

You have several possibilities for viewing Door County from the water and many people will assert that this is the BEST way to see Door County!
Is there anything more passionate than a sharing a glass of vino on a sunset sailing trip?  Sail away on Door County's only tall ship, the 62' wooden schooner Edith M. Becker, and experience views only possible from the water.  Listen to the cannon thunder on each trip!  Sail Door County www.saildoorcounty.com offers four trips daily in Sister Bay, ten minutes away!

If you are a Lake County sporting team who really enjoy nature, take your mate on an expedition to catch your own dinner! 
'A bad day fishing is better than a good day at work!' -Unknown Author. 
See our Fishing Page for more information on how and where to catch our nationally famous smallmouth bass as well as northern pike and perch.  You can hire a local pro guide by contacting www.jackislandcharters.com or www.lateeyessportfishing.com.
For couples with an adventurous spirit and the desire to captain your own ship, contact Sister Bay Boat Rental www.sisterbayboatrental.com and charter your own boat to take a clandestine tour of the Door County coastline.  Visit secluded Horseshoe Island or see the Eagle Caves and lighthouse by water.  Don't forget to ask us about slip availability should you desire to keep your boat at the resort during your stay.  We offer weekly and daily (off season only) rates for our cottage renters from Lake County.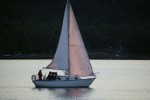 Although the resort offers free kayaks and canoes, there are other beautiful locations around the peninsula that are well worth seeing via these silent sports.  Two such places are Cave Point and Whitefish Dunes State Parks, where the two of you can paddle past sea caves and along Door County's largest sand beach.  For information on guided kayak tours, contact Kayak Door County at www.kayakdoorcounty.com.
See our Dining Page(link) for information and links to many restaurants available locally.  Several are within walking distance, including Wickman House (a favorite romantic destination) and Brew Coffee House.  Enjoy a glass of local sparkling cider at Island Orchard Cider's tasting room on Garrett Bay Road, a five minute walk from the resort.  Savory Spoon Cooking School, on Highway 42, offers couples cooking classes.
Door County hosts many local wineries that offer traditional grape wines as well as local cherry wines.  Many have sampling rooms where you can sample their products.  Take the guided tour of several wineries on the Door County Wine Trail www.doorcountywinetrail.com or get a map and brochure in the office and visit them on your own schedule.
'Ty, what did you shoot today?'  'Oh, Judge, I don't keep score.'  'Then how do you measure yourself against other golfers?'  'By height…'   Many couples enjoy golfing together.  Whether you are a Ty Webb or a Judge Smails, you will find a suitable golf course in Door County.  Bay Ridge www.bayridgegolf.com in Sister Bay offers a regulation 9-hole course.  Peninsula State Park Golf Course www.peninsulagolf.org in Ephraim has 18 holes, a driving range and spectacular views.  Alpine Resort www.golfatalpine.com and Stonehedge www.golfstonehedge.com are about 30 minutes away in Egg Harbor.  Maxwelton Braes Golf Course is located on Highway 57 in Baileys Harbor.

Shopping:  Whether you are interested in antiques, clothing, jewelry, art or other area specialties, you'll find a variety of stores and galleries to visit in most of the small towns of Door County.  There are so many options that we won't begin to try and list them all here, except to suggest that you start your search locally in Ellison Bay at Turtle Ridge Gallery www.turtleridgegallery.com (fine art, jewelry and leather handbags) and Newport House Gallery www.newporthousegallery.com (art, fine antiques and home accessories).  Silver Poplar Studios Gallery www.silverpoplar.com offers unpredictable art displayed in an eclectic barn, Russian estate and gardens.

If you would like to visit a one-stop-shop for books on many topics related to Door County, go to Peninsula Bookman www.peninsulabookman.com on Highway 42 in Fish Creek.  They have an outstanding collection of History titles that will keep you entertained for hours while on vacation.
For something different, visit Hands On Art Studio www.handsonartstudio.com in Fish Creek and explore your creative side with a couples art class.  Note to guys:  It's not all painting and pottery.  You can use fire to decorate metal (aka weld stuff)!  Oh, they serve beer too.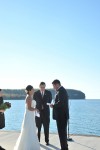 We have many brochures, maps and other information on couples activities in the office.  Stop by if you have any questions.  Guests from Lake County love to explore and have fun!

Bayview Resort & Harbor has played host to many Door County Weddings.  If you and your significant other have not yet been married, perhaps you'll consider hosting your Door County Waterfront Wedding with us on our Door County Wedding Pier or private beach.