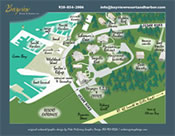 Click to get a bird's eye
view of our property
Door County is famous for its many shipwrecks.  Did you know that the name Door County has its roots in the French name 'Porte des Morts', and can be traced back to a battle between the Potawatomi and Winnebago Indian tribes?  According to legend, the battle took place at Door Bluff County Park, which is just north of our marina or a scenic bicycle ride from the resort via Garrett Bay Road.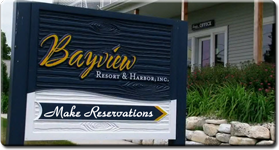 Information & Details
Check in / Check Out
Check-In 3:30 p.m. Check-Out 10 a.m.There is a half day charge for late check-out
All units are smoke-free. Sorry, no pets allowed.
Full Payment is due upon check-in. Rates are subject to all applicable taxes.
Returned checks – $20 service charge
We accept VISA, MASTERCARD & DISCOVER
In Cottage Amenities
•  Satellite Television
•  DVD Player
•  Stove
•  Microwave
•  Full-size refrigerator
•  Toaster
•  Coffee maker
•  Dishes
•  Wine and juice glasses
•  Dishwasher with detergent
•  Corkscrew
•  Cutting board
•  Kitchen knives
•  Bathroom towels & utensils
•  Linens
Deposit
$250 per week reserved is required when making a reservation a year in advance.  The rest of the deposit (1/2 of confirmed reservation) is due by January 15th of the season. All other reservations are subject to 50% credit card deposit
Cancellation Policy
There is a $75 per reservation cancellation charge. The balance of the deposit will be refunded if reservation is cancelled prior January 1. If the reservation is cancelled after January 1, the balance of deposit is refunded if the unit is re-rented. 
Early Departure 
Should you find it necessary to depart early, no refunds are given for early departure.