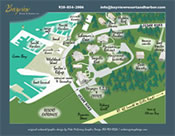 Click to get a bird's eye
view of our property
Door County is famous for its many shipwrecks.  Did you know that the name Door County has its roots in the French name 'Porte des Morts', and can be traced back to a battle between the Potawatomi and Winnebago Indian tribes?  According to legend, the battle took place at Door Bluff County Park, which is just north of our marina or a scenic bicycle ride from the resort via Garrett Bay Road.
Door Shanty Cottage
This two story cottage is near our tennis courts and features three bedrooms/1 bath, central air/heat, a modern full kitchen and lots of privacy!  The maximum occupancy of this unit is 5 people, including kids.  The bathroom is downstairs along with one bedroom (queen bed). 
There are two bedrooms upstairs including one with double bed and one with twin bed.  There is a sitting area upstairs in a loft.  This unit has a private porch with sitting area and grill.
Make lodging and room reservations to say with us.
Door Shanty Cottage

/uploads/doorshanty1.jpg

The Door Shanty Cottage has 3 bedrooms, 1 bath, has 2 stories and sleeps 5 guests.

Door Shanty Cottage

/uploads/doorshanty2.jpg

Door Shanty Cottage

/uploads/doorshanty3.jpg
Click the text above to hide