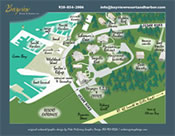 Click to get a bird's eye
view of our property
Door County is famous for its many shipwrecks.  Did you know that the name Door County has its roots in the French name 'Porte des Morts', and can be traced back to a battle between the Potawatomi and Winnebago Indian tribes?  According to legend, the battle took place at Door Bluff County Park, which is just north of our marina or a scenic bicycle ride from the resort via Garrett Bay Road.
Welcome To Bayview Resort & Harbor
New Duplex units new Harbors but a history that begins in the very early days of Ellison Bay.
Bayview Resort & Harbor, Inc's history dates back to the very early days of  Ellison Bay, when commercial fishing was (and continues to be) a very important  aspect of the Door County economy. In the late 1930s, a local fishing family  built the first commercial pier and a few fishing shanties in Ellison Bay.  These shanties formed the humble beginnings of Bayview Resort & Harbor.
New units have replaced these first quaint cottages.
The Smiths ventured to Ellison Bay in the 1970s and the rest  is history. For the last 42 years, we have poured our hearts into creating a  place where people can take refuge from the grind of everyday life. We would  like to extend a warm welcome to you and your family.
Welcome to Bayview Resort and Harbor Inc.
The Smith Family