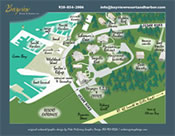 Click to get a bird's eye
view of our property
Door County is famous for its many shipwrecks.  Did you know that the name Door County has its roots in the French name 'Porte des Morts', and can be traced back to a battle between the Potawatomi and Winnebago Indian tribes?  According to legend, the battle took place at Door Bluff County Park, which is just north of our marina or a scenic bicycle ride from the resort via Garrett Bay Road.
Milwaukee County Brides & Grooms: Plan Your Lakeside Wedding on our Door County Wedding Pier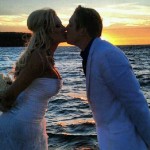 For a new Mr. & Mrs., 'Happily Ever After' begins with waterside wedding at Bayview Resort & Harbor, home of the Door County Wedding Pier.  On your wedding walk down the aisle in your beautiful gown over turquoise waters in view of rocky shores and majestic bluffs.
In 2011, the owners of Bayview Resort & Harbor, Inc in Ellison Bay, Wisconsin announced that they would allow guests to use the private, upscale waterfront resort for water side wedding ceremonies.  The resort's south pier, also known as the Door County Wedding Pier, was completely rebuilt in 2010 with special events like wedding ceremonies in mind in order to take advantage of the spectacular waterfront location and picturesque view of Ellison Bay - not too far from Milwaukee County.
As a result, guests visiting from Milwaukee County can now exchange vows on the beautiful waters of Green Bay with a stunning view of Ellison Bay and the setting sun as their backdrop!  The private beach and Door County Wedding Pier offer truly unique waterfront venues for formal or casual wedding ceremonies from 10 to 200 guests.  Currently, there is no site cost for wedding ceremonies up to 75 people.  Decorate the pier and your wedding bouquet with local lilies.   Wedding receptions may also be held on site, subject to availability.  Enjoy your wine toast outdoors at our private beach area with your family and guests!  A site fee applies to wedding receptions.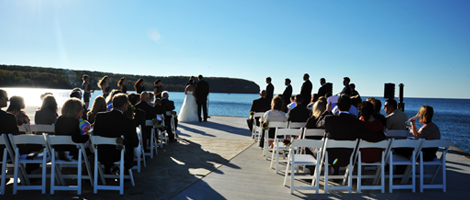 Milwaukee County couples find that in addition to being an outstanding setting to hear the words, 'You may now kiss the bride!', the resort's location, grounds and facilities also offer guests the opportunity to host a casual rehearsal dinner or other fun, family related activities before or after the wedding vows.  As Bayview Resort & Harbor is centrally located in Northern Door County, we make an excellent 'home base' for travel and excursions from Milwaukee County to places like Newport State Park and Peninsula State Park as well as many shops, artisan boutiques and restaurants such as JJ's and La Puerta and The Viking Grill - all within walking distance of Bayview.  In addition, guests may decide that they don't want or need to leave the resort grounds due to our many amenities, including marinas and complimentary canoes and kayaks.  Wifi is available throughout the resort as well.
Milwaukee County long-time guests have been returning to Bayview Resort & Harbor for generations to take advantage of the beautiful grounds and waterfront amenities for their annual family reunions or romantic holidays.  Allow us to help you begin your new lives together by hosting your wedding ceremony on our scenic Door County Wedding Pier at Bayview Resort & Harbor!  As our wedding gift to you, there is no site fee for resort guests.